Come Visit This Hill Property With Its Wonderful Ocean Views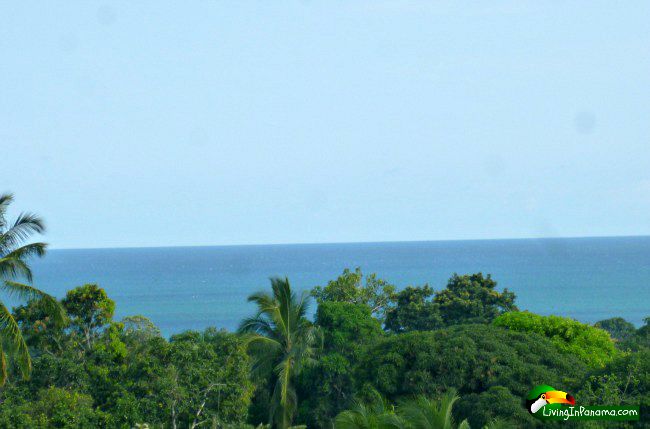 Scroll To Bottom of Page For More Photos & A Video
This large view property is on the brow of the hill in the historic Las Palmas neighborhood.
Chiquita Banana built this neighborhood in 1930s-1960s for their top executives.  It is an historic neighborhood in a unique and charming beach town of Puerto Armuelles, Panama.
This is a wonderful neighborhood with large lots and tropical wooden houses on stilts. From this property and neighborhood, you can hear howler monkeys, parrots, and the surf – esp. in the early mornings.
Everyday at dawn and then again at dusk flocks of parrots fly out of the neighborhood and then return in the evening.   It gives a wonderful rhythm to your day.
The neighborhood enjoys a member-only swimming pool & 9 hole golf course at a cost of only $10 a month.
The neighborhood has a definite sense of place.
Summary — Why Live Here
Great Ocean Views
Delight to the sounds of howler monkeys in the morning, tropical birds all day long, and ocean waves when the surf is up
Only 10 minute walk or drive 2 minutes to downtown & the Ocean
Enjoy fabulous breezes up here on the brow of the hill
Quietest spot in this quiet neighborhood
Historic neighborhood. Built by Chiquita Banana in 1930s-1960s for their top executives.
On brow of hill, in front of most prestigious houses in Las Palmas
Prime ocean-view-commanding lots
Property Details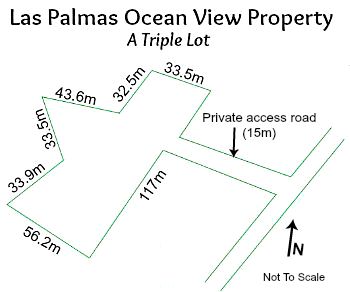 Titled
~5500 square meters (59,200 square feet)
Large enough to subdivide into 3 lots
Build your own home, and sell extra lots
Exclusive & Historic Neighborhood
Expat and local builders available for construction of home(s)
Priced At Only $54,000
Watch A Video Tour Of The Property Below
Las Palmas Golf Course
The 9 hole golf course it very unusual in that it also has an air strip (only occasionally used), a few horses grazing, and people taking strolls and exercise.   It is a pleasant experience,but definitely not for those who take their golf seriously.  Membership to both the pool and the golf course are a total of only $10 a month.
---
Want To See This Property?
Use the form in the sidebar to let us know when you will be in town.
---
Click On Any Photo To Start Slideshow.
A summary of property details appears below the photos.
Puerto Armuelles is a charming beach town.
Located right along the coastline, Puerto has a real sense of place
Built by Chiquita banana in the 1930s-50s
2nd largest town in the popular Chiriqui Province.
Everything you need, right in town
Puerto Armuelles is an increasing popular place for both expat retirees and investors. This is due, in part, to the near completion of the new 4 lane highway linking Puerto Armuelles to the Panama's InterAmericana main highway. The improved access has allowed many more people to discover the many charms of this wonderful beach town.
Puerto Armuelles is a unique and charming beach town. Puerto Armuelles is the only true beach town in Panama. Panama has villages, cities, and resort areas on the beach, but no real town. A great beach town to live in.
Puerto also stands out because of its unique look. It looks very different from almost all towns in Panama. This is because, starting in 1927, it was built by Chiquita Banana. Chiquita Banana put its own unique stamp on Puerto building neighborhoods of tropical wooden houses on stilts as well as the downtown, pool, and more.